G'day you B2B folks!
Thank you to the 18 marketers who subscribed to our YouTube channel in the last week.
Here's some social proof from YouTube commenter, Dave Siff:
"Taking notes! Excellent info and great presentation!"
(Dave also connected on LinkedIn and told me he watches it like a TV show. Cheers Dave!)
ANYWAY!
Today we're talking about how Kevin and I get 20x more eyeballs on our content, why you need to make enemies with your marketing – and much more!
You should be able to read today's issue in 5 minutes or less.
💡 3 B2B Strategy Tips
1) Get 20x eyeballs on your content: Kevin and I get 20x the eyeballs on content we create by focussing on repurposing and distribution – not just creating it! So often companies write 1-2 blog posts a month, and just leave them to collect dust. What we do is we create 1 piece of pillar content a week (our video podcast), and then turn that into: 
A 40 minute podcast, 30 minute YouTube video, 8 YouTube shorts, 8 x TikToks, 12 x LinkedIn posts, 3 x article ideas, and 1 x newsletter.
And content creation isn't our full-time job! We run the agency and The B2B Incubator too. So we share how we're able to be so efficient with our content creation and distribution system on Episode 78 of The B2B Playbook podcast.
2) Make enemies with your marketing: My posts on LinkedIn that get the most attention call out the difference between lead generation VS demand generation. It positions lead generation as the enemy – the old way of doing things that's stopping a marketer and business from reaching their goals. 
Is lead generation all that bad? Well, when it's done properly, it kinda looks more like demand generation anyway. But the way most marketers execute it – it does often stop businesses from scaling sustainably.
BUT people rally around a common enemy – the reason for change. If the old way of doing things is fine, then why would someone seek out a new opportunity like demand generation?
Think about how you can apply this to your marketing in your business. Who is the enemy, what is the old way, and why is your new opportunity better?
3) Lessons from YouTube: Taking on a new channel is a daunting task. I thought about creating original 'how to' content for YouTube, and even created a few videos. But it took me forever to put it all together, and I just knew I wouldn't have the resources to commit to it. So instead, we took our own advice and just used it as a channel to repurpose our existing video podcast. 
But we've been jazzing it up with whiteboarding, screensharing, multiple camera angles, fancy slides etc. This is all to make it more native to the platform. I even had someone reach out to me on LinkedIn and tell me he watches our YouTube episodes as if they're a TV show!
Don't reinvent the wheel when you take on a new channel. Slowly add things in when you record your pillar content, so when you repurpose them to a channel like YouTube it suits the platform better.
P.S. You can subscribe to our YouTube channel here!
---
✏️ Doodle of the Week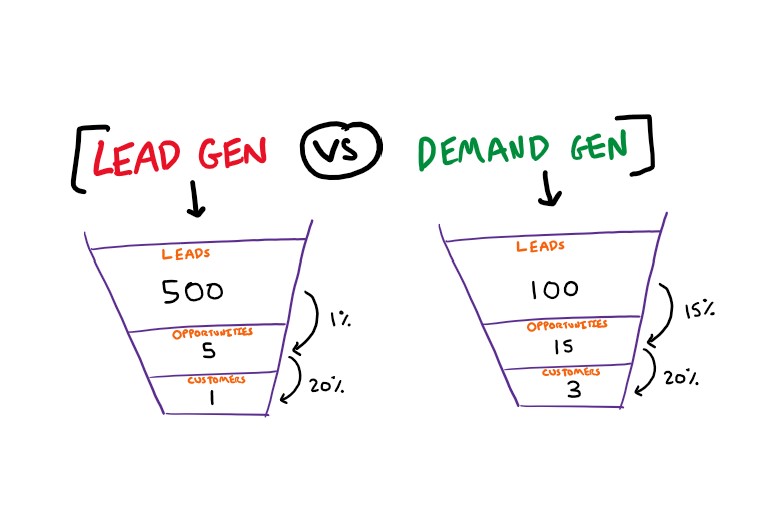 A great case for why lead generation (the enemy) could be stopping your business from scaling. Demand generation (new opportunity) helps you focus on quality over quantity of leads – leading to more pipeline opportunities and ultimately more revenue.
📖 3 Articles and Resources
1) An overview of our 5 BEs Framework: I appeared on Michelle J Raymond's podcast (LinkedIn for B2B Growth) to share our framework for building a demand engine. Check it out!
2) Our 4 cheap ass ways to see who is viewing your content: It's crucial to see if your content strategy is being seen by your ideal customers. But traffic revealing software and intent tools are expensive! So here's our cheap ass guide to getting that information.
3) What marketers say about our Incubator: We record our feedback sessions from past participants of The B2B Incubator and share them on our page. We don't ask for testimonials, because we want them to be as honest and transparent as possible.
Thanks for reading!
P.S. Don't forget to subscribe to The B2B Playbook podcast.
Strategy, Templates & Tools To Drive More Revenue With Marketing
Our 5 BEs Framework teaches b2b marketers exactly how to drive more revenue with your marketing.
We share our Framework step-by-step every week on The B2B Playbook.
---
There's 3 ways you can learn and implement it in your own business:
Listen to The B2B Playbook Podcast
Apply for The B2B Incubator
(P.S. The B2B Incubator gives you strategy, templates and tools you need to implement this in your business over 12 weeks. Click here to find out more or apply now).
---
Subscribe & Get The Best Of The B2B Playbook Delivered To Your Inbox
Join other B2B Marketers and Owners and get the latest B2B marketing strategy, tips and tricks delivered to your inbox.
What Marketers Like You Are Saying...